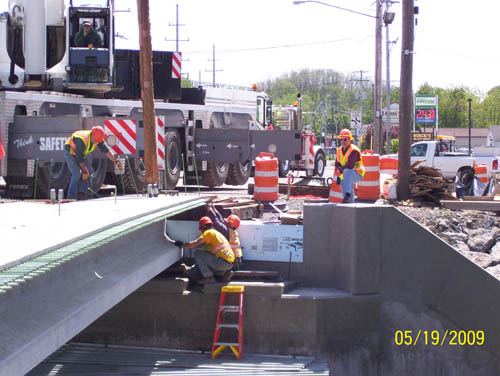 By Sean McCraken, Finger Lakes Times 7/21/09
The new Route 31 bridge opened Friday, three weeks earlier than state Department of Transportation officials had anticipated.
The concrete bridge replaces one built in 1936 that had been on the state's list of deficient bridges. The project cost $1.3 million, most of which was covered by the state, and closed a section of Route 31 for just under three months.
The new bridge – the first of its kind built in New York – features prestressed concrete deck bulb tees and ultra-high-performance concrete in the joints between its beams.
Other improvements include a north side sidewalk and the removal of girders that made it hard to see when turning west onto Route 31 from Leach Road.
Representatives of state and local government as well as Ramsey Constructors attended a ribbon cutting Friday.
"We know the state has been in the news a lot lately, and we think this is just the kind of press we need," said James Hoffman, chairman of the Wayne County Board of Supervisors.
He praised the DOT for getting the job done early.
"Who knows? Maybe there's a place for Ramsey Constructors in legislature," he said.
At the original hearing about the project in February, Mayor Corrine Kleisle said it would likely take between five and six months to complete.
DOT officials attributed their ability to finish the bridge in less than three months to special construction materials, including an asphalt surface instead of concrete, which saved as much as 28 days. They also cited the bridge's unique structure and the inclusion of an incentive clause in Ramsey Constructors' contract.
Both Kleisle and Chamber of Commerce President Mark DeCracker were pleased to see the project completed before July's Peppermint Days festival. But DeCracker said the detour did lead to positive traffic through Lyons.
"We got some people downtown that normally wouldn't go downtown by having to take the alternate routes," DeCracker said. "So hopefully they come back and visit our wonderful downtown."
The bridge's completion ends the 19-mile detour suggested by the state, which led all the way to Phelps and resulted in an extra half hour of travel time.
Local residents, however, easily avoided that trip by using the Leach Road bridge, Water Street and Route 14 bridge, bringing them downtown.